Dear customers, our working ours are over for today. Please be patient and wait for your responses.
We are coming back tomorrow at 9AM GMT+2. Thank you! Current hour is: 07:23 PM
Dear customer,
For a while now we have been working on a new, more user-friendly help desk setup so that our users could receive the support they need and make it easy for them to access information about our products. Starting
September 1st, 2017
we will no longer accept new tickets on this help desk and more on to our new address:
http://help.touchsize.com
. We invested time and resources and we'll try to invest even more into briging articles and more information into our knowledgebase. The new help desk will have live search results, a better navigation through the information on our website and of course - more quality information.
Unforunately, we will not be able to migrate the current tickets and information from this help desk, which means that we start on the new help desk from a clean, new setup. All user information, tickets, replies and details will remain available here for a period. Starting September 1, 2017 we will disable the possibility to add new tickets here and from September 10, 2017 we will block the replies as well.
Thank you very much for your support. The TouchSize Team.
Great! Close this.
Looking for WordPress & design information? Check out www.shapeofweb.com for more!
Server Status
Viewing Article
How to import the demo data in Diginex and in the new themes
15/11/2016 11:25 AM
Articles
627 views
To make your WordPress site journey using our theme, we now provide you an easier way to import demo date. 
With the help of import option from theme options you can quickly duplicate your site as our demo. The demo content includes all posts, pages, widgets, theme options settings and menus. The process is seamless and just takes few minutes.In this tutorial, we are going to show you step by step process on how to import the demo data in the new themes.
Warning: Importing demo data will replace your current theme options, sliders and widget settings.Importing data is recommended on fresh installs only. Importing on sites with content or importing twice will duplicate menus, pages and all posts.
1. First of all you need to install recommended plugins to ensure import of all content.

2. Then go to theme options and find import option menu: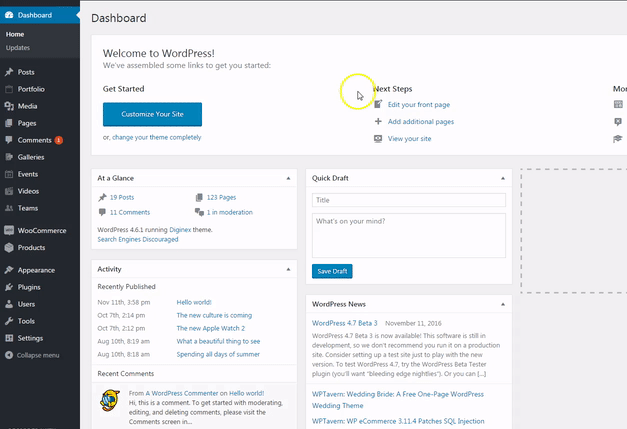 3. Here you have the possibility to choose the demo you want to import. In Diginex theme you have four types of demo:
   -
TECH
   -
LIFESTYLE
   -
BLOG
   -
VIRAL

4. After choosing the demo you want just have to access the button 

.
5. All done. That was easy. Your demo content is already imported have a look.
Well that's it. If you have any confusion you can contact us with a ticket.

Print Article
Related Articles
Note: Your mail address will be automatically registered to our newsletter. How to use the help desk